Single Pair Ethernet
A compact but groundbreaking technology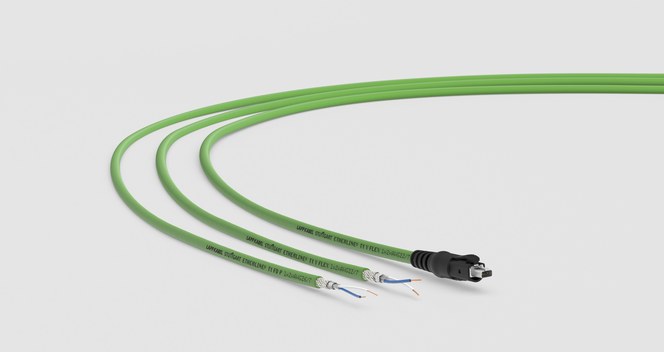 What does Single Pair Ethernet (or SPE short) mean and how is it different to the usual Ethernet?
Single Pair Ethernet cables are copper cables that only contain one twisted pair (single pair) that they use for data transmission, for example in industrial applications. However, the conventional Ethernet cables from the LAN sector or Industrial Ethernet cables use 2 or 4 pairs of wires depending on the transmission rate. The Single Pair Ethernet Technology is therefore the lean, lightweight and material-saving Ethernet development for many current and future applications.
What was SPE developed for?
Industry 4.0 and Industrial Internet of Things (IIoT) require uniform network infrastructure across all levels and systems, as well as data transmission in real time.
The classic Ethernet, which already connects all upper layers in the automation pyramid, is often unsuitable for connecting the lowest field level because the cables are oversized, and connection is complex. This is why conventional fieldbuses still have advantages over Ethernet Standard in these areas. They are used to control the exchange of information between sensors and actuators with the control level (PLC). The aim is to replace these BUS systems with SPE systems and corresponding SPE cables as soon as possible.
The advantages of Single Pair Ethernet at a glance:
Replacement of fieldbuses with future-proof Single Pair Ethernet systems.
Standardization of technology in IP-based networks, from sensor to ERP or the cloud, in favour of smart factories.
Miniaturisation of the cable saves material and costs and has an effect on weight and space-saving design. Space plays an essential role, especially when it comes to networking sensors and actuators.
Single-pair cable design enables much faster, easier on-site installation and reduces the potential for errors in assembly.
Cost efficiency due to the elimination of additional gateways that have previously been used to connect fieldbuses to higher-level standard Ethernet. When using SPE, the field level can be connected without these translators.
SPE uses PoDL (Power over Data Line) to supply terminal devices with up to 50 W via the data line. Comparable to PoE, which has already proven itself in today's Ethernet.
Open cabling standard with compatible cabling components is suitable for universal use in the entire automation industry.
What's next for SPE?
To ensure that the new technology arrives in factories quickly, uniform communication protocols had to be created. This has been completed. The protocol standards according to IEEE 802.3 define the technical framework conditions for Single Pair Ethernet transmissions in industrial applications; the industrial connector view "T1 Industrial Style" is standardised by IEC 63171-6.
SPE standard
Bit rate
Cable length point-to-point
shielded
unshielded
IEEE 802.3ch
2.5/5/10 Gbit/s
15 m
-
IEEE 802.3bp
1 Gbits/s
40 m
15 m
IEEE 802.3bw
100 Mbit/s
40 m
15 m
IEEE 802.3cg
10 Mbit/s
1000 m and over
-
The IEEE 802.3 working group has defined standards for different SPE use cases.
Connecting cables from our ETHERLINE® T1 product family
The ETHERLINE® T1 product family contains various Single Pair Ethernet cables for use in industrial machinery and plants.
ETHERLINE® T1 FD P is a shielded AWG26 cable for Gigabit and use in cable chains (available soon).
ETHERLINE® T1 FLEX is an AWG22 cable for occasional movement and is suitable for 100 Mbit and Gigabit (already available).
ETHERLINE® T1 P FLEX is an AWG18 cable for 10 Mbit/s and distances of up to 1000 m (available soon).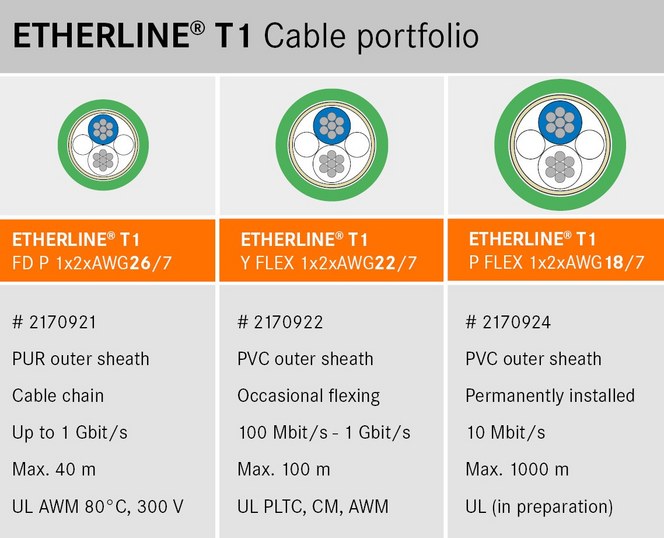 Secure your advantage through cutting-edge SPE technology. We stand by your side.
_________________________________________________________________________________________________________________________________________

LAPP is a member of the SPE Industrial Partner Network, a consortium of well-known companies that want to help SPE technology achieve a breakthrough.
The partner network aims to create an integrated SPE infrastructure: The innovative technology is not only intended to guarantee reliable transmissions, but also provide standardised interfaces and system components. The foundation has already been laid by establishing standards and close cooperation with international standards committees.
_________________________________________________________________________________________________________________________________________