Failure forecast for your cables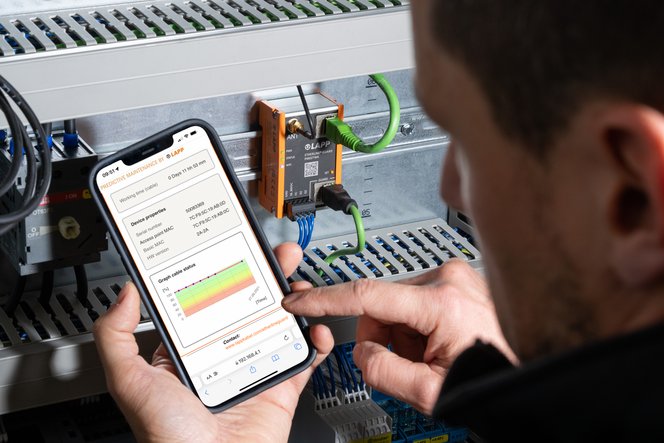 As experts in the field of connection technology, we have addressed the topic of predictive maintenance to develop solutions for anticipating the service life of cables in the industrial environment.
Cables with a high bending and flexing load are put under extreme pressure, especially in dynamic and positively driven industrial applications, for example in a drag chain. In Robotic applications, torsional force is an additional factor. Although the cables are specifically constructed for this kind of load, they are still considered a wear and tear part. Despite all of this, Good cables can withstand several million bending cycles, but they do need to be replaced at this point, if not sooner, as the plant may otherwise fail and unplanned downtimes result.
Our solution for data cables: ETHERLINE® GUARD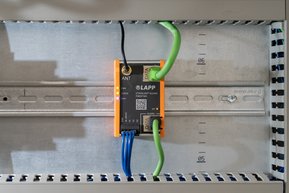 What is ETHERLINE® GUARD?
ETHERLINE® GUARD is a stationary monitoring device that continuously monitors an Ethernet cable, detects a decline in performance and displays it with an easy-to-understand parameter - the cable status. Maintenance measures can be planned in advance based on the cable status as a value between 100% and 0%. The device supports copper-based Ethernet data cables compliant with 100BASE-TX according to IEEE 802.3 (at 100 Mbit/s) and is suitable, for example, for EtherCAT, EtherNET/IP and PROFINET applications.
What is the purpose of ETHERLINE® GUARD?
The device is particularly useful for data cables that are exposed to constant mechanical "stress". This includes movement at high speed and acceleration, changing motion sequences, rotations with very high axial angles of rotation, short cycle times and small bending radii. The device is also used in critical processes, where a downtime would result in high downtime costs or even personal injury.
How and where has ETHERLINE® GUARD proven itself?
ETHERLINE® GUARD was tested by potential customers from the early development stage and optimised thanks to valuable feedback. Successful use in pilot projects in medical engineering, automotive manufacturing and intralogistics, as well as in LAPP's own service and logistics centre, enabled us to improve the functions and product features once again.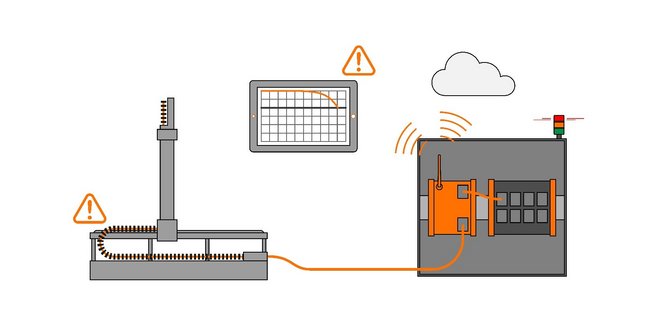 ETHERLINE GUARD continuously determines the performance status of the cable and issues an alarm in good time before the performance falls too far.
Your benefits of using ETHERLINE® GUARD
Planning the optimum time for replacing the data cable
The device continuously monitors the data cable's service life parameters. Unplanned and expensive machine downtimes can be avoided. This allows you to plan necessary maintenance in advance (e.g. maintenance and replacement at night, at weekends or simultaneously with other component maintenance).
Simple commissioning
ETHERLINE® GUARD is designed for use in control cabinets. Simply connect the device to the power supply, plug in the cables, start operation at the push of a button and monitoring starts. Automated and self-learning parameterisation is carried out within minutes by clicking on the SET key or via a web interface.
Easy reading of the cable status
The diagnostic and adjustment options have been deliberately kept simple: if the diagnostic LED is constantly lit green, the cable status is OK. It is only necessary to check or replace the cable if the colour or flashing changes (flashing or permanently red).
Problem-free plant retrofit
The device can also be used for monitoring already installed and no longer brand-new data cables. It does not require a new data cable or changes to the cable design. The software detects the installation situation and automatically takes over the learning process.
Individually adjustable alarm trigger threshold
Decide for yourself when you want to be informed of a deterioration of the read sensor data. The alarm threshold can be between 99 percent and 21 percent (set to 80 percent ex works).
Cloud communication
Reliable IIoT communication thanks to the MQTT interface: In addition to the optical display, maintenance data can be transmitted to higher-level controllers via several channels: as a digital switching output, as a PWM modulated signal, as continuous value via LAN and WiFi or via cloud-based communication.
Unique compact
The compact design (36 x 49 x 76.5 mm) saves space in the control cabinet.
Available in two variants
Cable-bound LAN version "PM03T" and wireless WiFi version "PM02TWA".
What makes LAPP's solution so special is that the device is simply connected to the data cable in series; special sensor elements in the cable or a second device on the end of the cable are unnecessary.
More detailed information: Predictive Maintenance
The key aspect of the Digital transformation is the collection of machine data: Engines, valves and sensors independently report their operational status. This data is recorded and evaluated and analysed using algorithms (self-learning or not). The aim is to boost a system's efficiency or gain an insight into the plant's current status so that upcoming failures are detected at an early stage. If this data or these processes are uploaded to or run via the cloud, the plant can even be accessed globally. So, the days of long distances being an issue are long gone – because everything is networked together and is digital. Mechanical engineering and the automotive industry with their highly automated and time-sensitive manufacturing processes are particularly interested in smart developments. In the worst-case scenario, a single component failing could actually mean that the entire manufacturing process comes to a standstill, which would mean enormous financial damages.
To minimise this risk, predictive maintenance systems that offer the user the opportunity to record and evaluate the maintenance and performance status of any components are on the rise. This gives the plant operator time to determine when a component is about to fail so that they can perform the corresponding maintenance before the plant comes to an unplanned standstill. This condition plays a key role, especially in cost-intensive applications or safety-critical infrastructures. At present, in such plants mainly a preventative approach is pursued based on condition monitoring. This means, wear and tear parts are replaced at pre-defined intervals, regardless of their condition or remaining lifespan.
Predictive maintenance can be used to specifically predict the failure of a plant component. As part of this predictive maintenance approach, plant data is gathered and specifically analysed during ongoing operations. To optimise the plant's costs and operational safety, the signal for maintenance measures should neither be given too early (high costs) nor too late (plant failure).