Cables and wires for the food and beverage industry
Connection solutions for the highest hygiene standards from LAPP
Production processes in the food and beverage industry are characterized above all by strict hygiene regulations. The most important requirement here is that germs and impurities must not be allowed to form and come into contact with the goods. For this reason, cables for the food industry as well as connectors and cable glands must be able to withstand the high demands.
What special requirements must cables and lines for the food industry meet?
In food production, machines and equipment are cleaned about 30% of the day. Very corrosive and aggressive cleaning agents and chemicals are used to kill as many germs as possible and counteract contamination. Treatments under extreme temperatures are an additional challenge. Wet halls, cold stores or heat processes are common applications. Cables and lines for food production must therefore be able to withstand chemical, thermal and mechanical stress and must be FDA, ECOLAB or Hygienic Design certified. This is the only way that they can be used in plants and production areas.
Requirements of the food industry at a glance: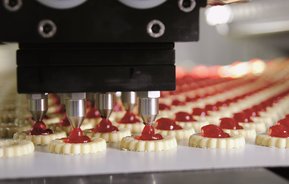 Resistant to aggressive cleaners
Resistant to bio-oils, fats, fruit and lactic acids
Temperature resistant
Waterproof
Stainless steel
Our products are specially manufactured to meet the high demands of the food and beverage industry. Our portfolio offers you cables and wires, cable glands and system solutions for the high demands of the food industry. Our products are tested and further developed in our own test centre. Thus we can offer you reliable connection solutions. Even for extreme conditions.


Advantages of LAPP connection solutions at a glance:
Temperature-resistant cables and heat-resistant leads
Use of hybrid lines
Corrosion resistant
Hygienic Design compliant
FDA approval and certified according to EHEDG, ECOLAB®, IPA Cleanroom suitability
Development with consideration of sufficient protection classes of attachments
The right connection solution for your food production:
Which wires and cables for the food industry?
In the production of food and beverages there are 3 zones. Depending on the zone, the external influences vary in terms of mechanics or temperature. We offer you the right cables and connection solutions for all zones for your machines and systems. Pay attention to the following points when buying cables and wires in the food industry:
Hygienic Design Zone: In this zone, contact with cables, lines and connectors is avoided as far as possible. The connection solutions are laid in stainless steel pipes or protective conduits in accordance with Hygienic Design requirements. Examples of applications include cables and lines that are encapsulated in agitators or mixers or serve as interfaces to optical sensors for level measurement. Our protective conduits such as SILVYN® HYGIENIC/SILVYN® FG (NM), and data cables: UNITRONIC® SENSOR HD M12 are ideally suited for your hygienic design applications.
For use in the spray zone: ÖLFLEX® ROBUST 200, ÖLFLEX® CLASSIC 400 CP, ETHERLINE® ROBUST, UNITRONIC® BUS PB, ETHERLINE® PN Cat.5e
Selection for the non-product zone: ÖLFLEX® SERVO FD 796 CP, ÖLFLEX® HEAT 180 EWKF, ÖLFLEX® CLASSIC 110, 110 CH, ETHERLINE® P Cat.5e, UNITRONIC® PUR CP
Which cable glands and connectors for the food industry?
Pay attention to the following points when buying connectors and cable glands for the food industry:
Hygiene Design Zone: SKINTOP® HYGIENIC / SKINTOP® HYGIENIC-R. Ideal for hygiene-critical areas - resistant, edge-free, robust and reliable.
Splash zone: SKINTOP® INOX, SKINTOP® INOX SC, SKINDICHT® SM CrNi M or SILVYN® ELT. They are seawater resistant and suitable for the splash zone in food production.
Non-product zone: SKINDICHT® SHV-M-VITON®, SKINTOP® CUBE, SKINTOP® MS-M BRUSH, SKINTOP® ST-M, SKINDICHT® SM-M, SKINTOP® MULTI, SKINTOP® MS-M and SKINTOP® COLD, and EPIC® H-B, EPIC® MC modules, EPIC® LS1 D6 and EPIC® LS1 A3.
The correct material choice for the food industry
Only a few materials can withstand cleaning with high pressure, aggressive chemicals or dry ice for a long time. The most reliable choice here is stainless steel. Especially in the Hygienic Design Zone.
Our SKINTOP® HYGIENIC meets all the requirements of Hygienic Design. It is DIN EN 1672-2 compliant and certified according to the latest EHEDG test. In addition, it offers no contact surfaces for impurities, all seals close completely in the direction of the cable and connection point. In addition, the cable gland, as well as the cable conduit SILVYN® FG (NM) or the ÖLFLEX® ROBUST cable, meets the ECOLAB® specifications regarding resistance to cleaning agents and disinfectants.
Is stainless steel suitable for all applications? No, it cannot be used for rectangular plugs, as the metal cannot be processed appropriately due to its hardness.
LAPP offers another solution with the EPIC® ULTRA connector: The housing of the rectangular connector is made of nickel-plated zinc die-cast. This material is resistant to corrosion, for example in salt spray on oil drilling platforms or in the food industry.
Examples from practice
Robust technology for potato chips: When it comes to the production of potato chips, the components used must be of the highest quality and durability. During production, the potatoes pass through various stations. A lot of dust is produced, which must be washed off daily. Only robust technology can withstand this. You can find out how LAPP helps here in our reference story.
ALPMA Alpenland Maschinenbau GmbH: ÖLFLEX® ROBUST was developed for demanding applications in the food industry. Especially in the food industry, cables and cable types are used which require special new and further developments in order to remain fit for use. Learn more about the advantages of our new solutions for the food industry here.