Test centre
Our trial and test centre, with its extremely high standards for material testing and quality assurance, is a further guarantee of the decisive quality advancements of our products.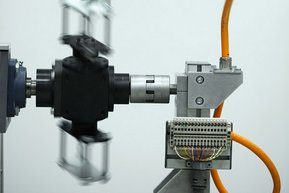 Only the toughest tests guarantee the highest quality
It is here that every Lapp Group design is subjected to tough performance and endurance tests. For example, our high-flexibility cables undergo millions of bending cycles at different speeds and extreme bending radii. Only products that survive the "folding chamber" are good enough to be included in our product range.

Optimum test methods for optimum products
At our trial and test centre, we are charged with ensuring our high-tech equipment is consistently state-of-the-art. The testing procedure comprises the following testing areas: cables, glands and material testing.
Comprehensive quality tests for cables
Tensile and sheering strength test
Resistance test
Electrical test
Torsion test
Torsion-bending test
Drag chain test
Roll bending test
Fire tests
Quality checks for glands
Protection class testing - water (IP X3 to X8).
Protection class testing - dust (IP 5X, IP 6X).
Oil spray test compliant with UL 514 B.
Pulling protection testing.
Strict materials testing
Infra-red spectroscopy for material identification
Thermogravimetry to determine material proportions
Thermal analysis to test the thermal properties of materials
Climate cabinets to test ageing and storage
Our test centre is also open to our customers
Our test centre is also open to our customers. A customer-oriented mentality and perfect service form part of the Lapp Group company values. We therefore offer our customers the chance to profit from our test centre beyond the scope of quality assurance of our products.
Auf Wunsch testen wir Ihre Produkte und führen Materialprüfungen für Sie durch. Sie bringen uns beispielsweise ein Stück Kabel, dessen Materialzusammensetzung Sie wissen möchten. Wir prüfen das für Sie anhand der Infrarotspektroskopie und sagen Ihnen, welche Materialien enthalten sind. Mit Hilfe der Thermoanalyse können wir Ihnen Auskunft über die Materialeigenschaften geben. Selbstverständlich können wir Materialien auch auf Alterung und Lagerung überprüfen.
So steht Ihnen zur Analyse und Qualitätssicherung das gesamte Know-how unserer Fachleute zur Verfügung.