Quality and the environment
Quality is absolutely crucial to success. This is because it is only when a customer is won over with high-quality products, advice and service that they can be satisfied in the long term. By using our products for your applications, you depend on our quality. We can guarantee this!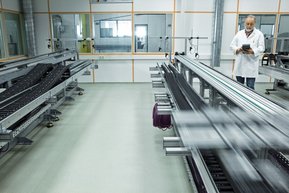 Certification ensures standards
Certification helps to ensure that certain standards for products and services are complied with. We have undergone certification in various fields for your peace of mind.
Quality management and DIN EN ISO 9001
Our quality management aims to optimise and further develop work operations or business processes. In order to achieve this, a comprehensive range of materials and temporary aspects as well as products and services are quality controlled. Aspects such as communication structures, solution strategies, maintaining and improving customer satisfaction as well as analysing the motivation of the workforce all form part of this. However, standardising handling and work processes and product and service norms also represents an important point. As a sales and distribution company of the Lapp Group, U.I. Lapp GmbH is also subject to quality management and has been DIN EN ISO 9001:2000 certified since 1994.
KTA 1401 certification
This standard regulates the organisation concerning quality assurance for products in the nuclear field.
ATEX certification
"Atmosphère explosible", or ATEX for short, consists of the following two EU directives: ATEX equipment directive 94/9/EC and ATEX workplace directive 99/92/EC. The directive aims to protect those working in areas at risk of explosion.
The directive consists of certain key requirements which build on the ISO 9001 quality management system, as well as particular safety requirements with which the manufacturer must comply. Compliance with the directive is ensured through comprehensive conformity assessment procedures. Since June 2003, only those appliances, components and protection systems which comply with the ATEX 94/9/EC directive may be used. In Germany this was even translated into national law through the Explosion Control Act (Explosionsschutzverordnung). Our products are ATEX-certified!
Inspection of incoming goods as an additional safety feature
However, it is not only official standards and certification which we consider to be important. In addition to these, we are constantly working to ensure and maintain our quality so that you continue to be satisfied as our partner.
As a world leader in system solutions for cables and accessories, we place particular emphasis on maintaining customer satisfaction. To ensure this satisfaction, our incoming goods are subject to strict and thorough inspections once delivered. This is carried out using state-of-the-art appliances and manual test procedures. Goods which do not meet our exacting standards are locked away until the inspection is complete.
We participate in trade associations
To ensure we can offer you the highest quality over the long-term, Lapp employees actively contribute to quality management trade associations.
Test certificates for your order
Should you have particular quality and safety requirements, for a small fee we will check your order once more in accordance with your specific wishes. You will, of course, receive a test certificate.
Finalise (sign) a quality assurance agreement with us
These contracts, which we sign with many customers, have truly proven their worth. Such an agreement specifies exactly which quality measures are to be carried out for you. This agreement is valid for the entire operational life of the product, from manufacture right through to application. We would be delighted to sign a quality assurance agreement with you.