Specialist Cable Harnessing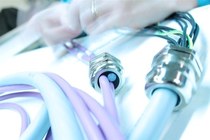 The Lapp Cable Harnessing and Wiring Looms Service allows our customers to utilise our wide range of products. The service enables Lapp to become the sole supplier for all your cabling needs. This will reduce lead time and reduce cost.
Lapp systems brings over 30 years of combined experience, our team of engineers and skilled sales support can provide a turn-key solution to your specific application requirements, from design concept through prototype, production and testing.
Lapp cable harness systems provides customer assistance in the design and cost effective assembly of servo and motor drive cables, wire harnesses, junction and control panels, control panel remote access ports, populated cable track assemblies, switch and emergency stop boxes, and non-standard industrial connector and harness products for special applications.
Not only can we source and produce the complete package, we can also stock the finished goods in preparation for when they are required. Again, helping to reduce the cash flow and stock holdings.
Benefits
Reduce direct and indirect overheads by using an all-in-one provider
Decrease lead time to despatch
Improvements in quality using a provider with a large range of tooling, resourcing and testing
Conformity to IPC standards with IS9001 - 2000 accreditation
Lower costs due to economies of scale
Reduce stock holding by storing your manufactured goods until project ready
12 - month warranty on manufactured goods (Terms and conditions apply)
Technical support services
One purchase order, one invoice
The capabilities are endless, from a basic lead to a bespoke wiring loom Lapp is the partner to choose.
Industries Lapp Systems Specializes in:
Mechanical Engineering
Drive Engineering
Commercial vehicles
Automotive (high voltage cabling / hybrid technology)
Medical Electronics
Robotics
Telecommunications
Metrology
Traffic Engineering
Wind Energy
Agricultural Technology
Stage Technology
Military Electronic
Aerospace & Aviation
"Our Customers can expect a fair price, high quality and flexibility from our custom-made services"