Sensors/Actuator Assemblies
Do you need to quickly connect sensors and actuators in the field? No problem with our pre-assembled cables! Depending on the outer sheath material, our ready-to-connect sensor/actuator assemblies can be used for almost any application. The shielded versions, recognisable by the suffix "SH" in the product name, offer protection against electromagnetic interference.
Sensor/actuator assemblies from the standard product range
Pre-assembled signal cables for harsh environments
For flexible applications with moderate mechanical stress on the signal cable, we offer cable assemblies with a PVC outer sheath. They can be used in dry and humid environments. The PVC outer sheath is resistant to acids and alkalis and is offering limited resistance to oil.
For continuously moving machine parts and in cable chains, we recommend cable assemblies with robust and halogen-free PUR outer sheath. Cable design, materials and the connectors must be selected in a such way that even the stress of application's continuous movement does not lead to problems in the signal transmission. The PUR sheath is also resistant to mineral oil-based lubricants and is often chemically resistant.
UNITRONIC® SENSOR assemblies
Your benefits at a glance:
Easier handling and time savings due to Plug & Play when using cables assembled on both sides.
Easy integration into the machine concept due to compact dimensions.
Variants with LEDs make it easier to check signal statuses and identify errors more quickly.
Connectors with integrated vibration protection are insensitive to shock and vibration.
Features
Also available as single-sided assembled cables for flexibly determining the cable length and free choice of the connector
Different cable lengths available
Depending on the cable type, M8, M12, M12Y or valve connectors can be selected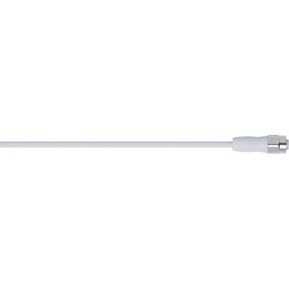 Pre-assembled signal cables for the Food & Beverage market
In direct contact with food, components must meet the highest hygienic requirements. Thanks to resistant materials and the hygienic design of the connector with smooth surfaces and stainless-steel knurls, UNITRONIC® SENSOR HD M12 provides optimal cleaning results. These pre-assembled cables with connectors on one or both ends are designed for use in the F&B market, on food and packaging machines as well as on frozen goods plants and cold stores. In addition, they have been specifically developed for continuously moving applications and can be used in cable chains.
UNITRONIC® SENSOR HD assemblies
Your advantages at a glance:
Guaranteed tightness by meeting the demanding IP 69K protection class.
Corrosion-resistant due to high-quality stainless-steel knurls.
Easy detection of contaminations due to light-coloured surfaces.
Tested resistance to ECOLAB disinfectants and cleaning products.
Features
With halogen-free TPE outer sheath
Available with straight M12 connector or angled M12 connector (for space-saving cable outlet)
Suitable for cable chains
Suitable connectors for sensor/actuator assemblies with one open cable end
If a cable is only assembled on one side, the cable length and second connector can be flexibly chosen during assembly. Do you want to complete such a cable with a suitable connector?
The EPIC® SENSOR product family offers shielded and unshielded versions with the most common connection types (screw, piercing or insulation displacement connector).
Pre-assembled sensor/actuator cables according to your specification
With ÖLFLEX® CONNECT DATA, LAPP also offers application-specific sensor/actuator assemblies. For this purpose, you can select the appropriate sensor cable from the extensive UNITRONIC® product range, to be assembled with suitable connectors according to your specifications and requirements. The use of factory-assembled sensor/actuator cordsets can greatly simplify installation and maintenance in industrial applications.
LAPP can also become your specialised partner for individual sensor/actuator assemblies.
Your advantages at a glance:
No financial investment for own production capabilities.
Lower operating expenses thanks to a leaner supplier base.
Lower stock levels thanks to complete assemblies.
Highest functional reliability.
Save your resources and benefit from our expertise.
Would you like to talk about a customised special production?